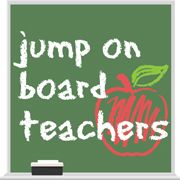 What do you teach? And where?
I teach 3rd grade in Southern California.
What is one of your favorite memories in the classroom?
Undoubtedly, I always seem to get a random fly buzzing though my classroom on any given year. It lingers for days and weeks!! We always give him (her?) a name, which becomes great fun! Silly, I know, but sometimes you've gotta have fun, right?
What was your hardest experience while teaching? How did you overcome it.
My hardest experience to date has been having an RSP student who desperately needed differentiation in every lesson, in every subject in order to access the content. Unfortunately, her parents did not want me to simply the curriculum for her. This went against everything I've been trained to do. It was a long year.
What advice would you give a new teacher or someone switching grade levels?
Although it can be stressful to switch grade levels, greet the opportunity with open arms. It can be very invigorating to switch grade levels. Surprisingly, if you go up or down just one grade level, many of your materials can be geared up or down with minimal tweaking.
Carol would like to offer all followers a